What's the Difference Between Composite and Timber?
Are you considering new decking for your garden or outdoor area? When deciding which material to use, you want to know the key differences between types of composite decking. We are here to explain.

So what is the difference between composite decking and traditional decking?
The difference between composite decking and normal wooden decking essentially is in the materials used to manufacture it.
Traditional timber decking is made entirely from pressure-treated wood. Composite decking consists of a mixture of wood fibres and recycled plastic.
Composite decking is designed to give your garden the look and feel of traditional timber decking, whilst removing the drawbacks associated with wood. This is because composite decking is less vulnerable to the elements and has a much longer lifespan than traditional timber decking.

Which type of decking is right for me?
When choosing the right decking materials for your project, nobody can deny that timber provides a beautiful, natural look for your garden.
We all love the look of timber decking. But, we also know that technology can improve upon nature. A hard-wearing, high-performance alternative to pure timber can save you years of work and expense in upkeep and maintenance.
The advantages of composite decking over timber decking
A longer lifespan
Timber decking can last 10-15 years with a commitment to regular maintenance. With proper installation composite decking can last 25-30 years+, with much less legwork from you. This leads to our next point.
Minimal upkeep
Composite decking doesn't need any sanding, staining, treating, or oiling. More time to enjoy your lovely outdoor space.
Not vulnerable to wood-destroying insects
UK wood-boring insects like woodworm, wood-boring weevils and the common furniture beetle aren't interested in setting up camp in your composite decking.
Minimal weathering
Timber decking is vulnerable to splitting, warping and cracking and can even rot and become unstable. When a wooden deck is rotten, there's not much to do but take it down.
No splinters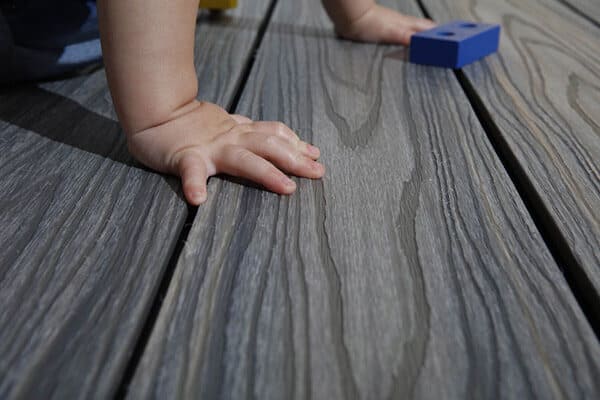 Gardens are now multifunctional spaces for entertaining, relaxing, working, playing and exercising. Composite decking allows you to enjoy your outside space without worrying about comfort. Composite decking is barefoot safe. So little feet, whether they belong to pets or children, are safe from scrapes and splinters.
Safe
All our composite decking is slip-resistant, unlike timber decking. Also, it's stronger than wood and you can rely on its long-term structural integrity. This is because it isn't prone to rot or weakening due to age and weathering.
Long term savings
Are you considering opting for timber because it comes in under budget? The longer lifespan and minimal upkeep and risk mean that over the long term composite is more cost-effective.
Beauty that doesn't fade
The appearance of freshly laid timber decking is smart and elegant. But, at the mercy of the elements, it can quickly start to look tired and untidy. Composite decking remains as beautiful as the day it was installed with UV resistant pigments and weather-resistant surfaces.
See for yourself the quality and discover our collection of composite decking products, then order your FREE samples.